Perfume & Prosecco High Tea - Breakfast at Tiffany's Edition
Fora Studios BREAKFAST AT TIFFANY'S High Tea + Movie Discussion

Book your tickets via Eventbrite here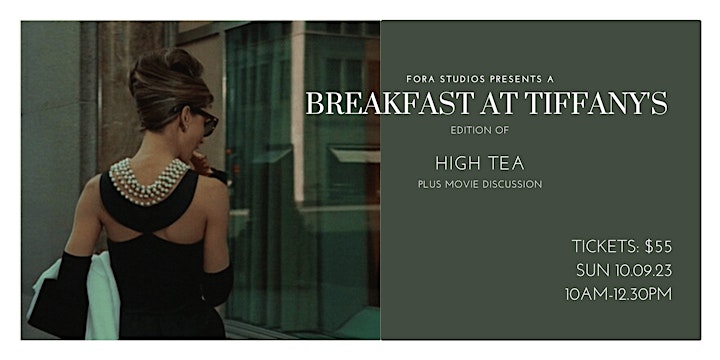 Join us for a delightful morning of indulgence and classic cinema at Fora Studios! On Sunday, September 10, 2023, starting at 10:00 AM, immerse yourself in the enchanting world of Audrey Hepburn's iconic film, "Breakfast at Tiffany's."
Located at 544-546 Box Road #Shop 5, Jannali, NSW 2226, our cozy venue offers the perfect setting for this special event. Step into the charming atmosphere as you sip on a prosecco, a delicious cup of tea and savour delectable treats during our High Tea experience.
Join fellow movie, style and pop culture enthusiasts in a lively movie discussion where we'll delve into the film's themes, memorable moments, and the enduring appeal of Audrey Hepburn's captivating performance. Share your insights, favorite scenes and your thoughts on the movie's relevance to today's culture.
Whether you're a die-hard fan of "Breakfast at Tiffany's" or simply looking for a delightful way to spend a Sunday morning, this event promises to be a memorable experience. Reserve your spot today and prepare for an enchanting journey into the world of classic cinema!